Most people fail to send media for their business contacts and workmates. We have tested the best apps for sharing media files for picking the most convenient one.
We will review apps with the next criteria:
– Platform compatibility
– Free storage available
– File size limits
– Max possible storage

1. Apple iCloud
To run iCloud you both want iOS 5.x (or later) or a Mac using OS X Lion 10.7 (or later). With your Apple ID, you can access iCloud on the go. It can be used to sync your photo & video, and almost any other type of data. Though, its lack of compatibility with other OS (like Android) ruins the platform flexibility. In contrast, Google Drive has an extensive compatibility with main today's platforms.
Pros:
5 GB of free storage
Compatibility with all the leading iOS and Mac devices
Accessibility from a website or app
Cons:
It has a lack of compatibility with other operating systems
A small bug or error during synchronization can result in data loss
2. Dropbox
Dropbox is accessible for nearly every platform, which makes it one of the most extensively used services for sharing media files. It has an app for Android, iOS, Windows, and Kindle. The desktop program is available for Windows, Mac, and Linux. As of now, Dropbox offers 2 GB of free storage to its customers that can be upgraded to 2 TB. It additionally has a business pack that offers unlimited storage on the cloud as well. Although, you can get more free 16 GB storage with referrals.
Pros:
It has an extensive vary of compatibility with nearly all the main systems
Easy and simple to use, separate directory on the gadget (Windows, Linux, and Mac)
Provides unlimited storage for premium plans
Cons:
No control over the way of how media files will be displayed, some formats might not be viewable
3. Google Drive
Google Drive has made its app accessible for Android, iOS, Windows, Mac, etc. One of the most outstanding things about Google Drive is the availability of the storage it offers. As of now, it provides 15 GB of free storage to its users, with extension option to 30 TB (for paid plans).
Also, Google Drive gives support for Google docs, sheets and photos. This makes it quite handy to be used for business purposes and files sharing as well.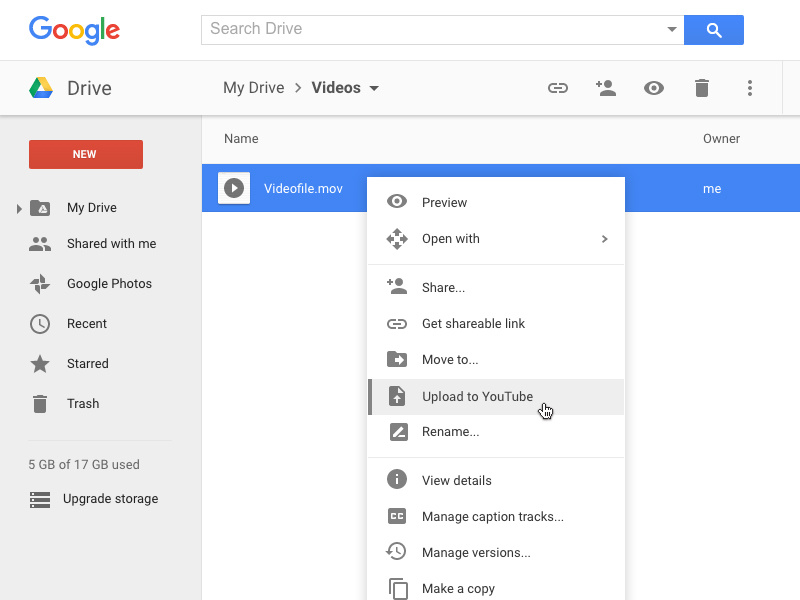 Pros:
15 GB of free storage
Accessibility through website and apps
Easy setup and integration with Google account
Performs auto-backup and help with different Google services
Cons:
Since most of the users share their files and storage with their Gmail, it might lead to over-flowing of data (if you obtain a plentiful quantity of mails).
4. WeTransfer
WeTransfer has no app anywhere,except IOS and Android and gives up to 2GB limit for uploading files. Also, every file is being archived on the website and download as a zip file which makes impossible to watch photo or video online. Despite that, WeTransfer won't force you to make an account and allows you to upload and send media with no registration.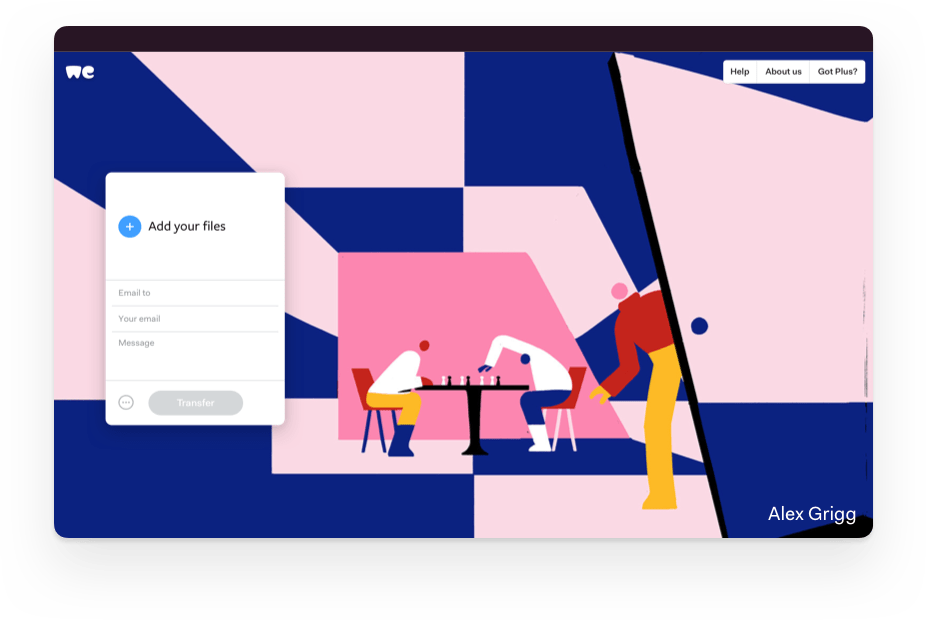 Pros:
All files get transferred without a registration
Free transfer up to 2GB per file
Files can be sent via email or file links
Cons:
Only 2 mobile platforms are supported as for app
No ability to watch the file online
As you can see, all these services are flexible for different types of media. For instance, WeTransfer is nice for sending big files and Dropbox offers unlimited storage. However, we would recommend to stick with one that integrates with the most common platform ecosystems and it's Google Drive.

agenda.video