In 2019, the proportion of companies using video for advertising is a staggering 81%, which is 63% more than just a year earlier. It's coming to the point where even the most conservative (or lazy) marketer can no longer dodge the video marketing craze. If you're ready to jump on the tech trend bandwagon, here are just seven of the myriad video marketing trends 2020 has in store for us. Buckle up – you're in for a ride.
#1. Shoppable videos: Retail therapy in motion
Standard marketing videos are simply not going to be enough next year. 2020 videos must be captivating, innovative and interactive. Monetising videos by making them shoppable allows retailers to encourage customer engagement and position themselves with a unique and pioneering voice in the market – a quality that is super important amongst millennials.
Shoppable videos have clickable hotspots that allow anyone watching on their laptop or mobile device to expand on the product. This hotspot could link to a landing page with more details about the product in question, or it could even initiate the checkout process and take viewers straight to a shopping cart. Is this the most direct video advertising can get? Possibly. Are we mildly terrified and slightly impressed? Definitely.
#2. 2020: Down with pricey production
The tech world is a constantly shifting space and video production is no exception. New video technologies are emerging all the time: 360° augmented reality, hyper-lapse and slow-motion tools, 4K videos and high-speed cameras. What's even more amazing is how accessible all of this is even for the more technologically stunted among us. The fact is, if you have a smartphone, you can get involved.
Just a few years ago, the luxury car brand, Bentley, shot an entire advert using just an iPhone. Streamlining their equipment by ditching the expensive stabilisers, lens adaptors and so on, in favour of using a phone by itself was a bold move that proves the advanced capabilities of our hand-held devices. Only recently, Selena Gomez released her comeback track with a music video that was also shot entirely on an iPhone.
We're predicting the 'less is more' trend in video marketing to continue on its trajectory well into 2020, so there's never been a better time to work with agenda.video. Our single-step video production system is a one-stop-shop for maxing out your existing phone or camera footage and making it shine.
#3. Personalised videos: Resisting the skip
Personalised videos are targeted to a certain audience or viewer, adapting to fit their specific needs and seeking to open a one-on-one conversation with its recipient. This type of video may be tailored to include personal information, like the name, gender, age or location of the viewer. Creepy, right?
A great example is Cadbury India's hugely successful social media campaign, which encouraged viewers to give one another chocolate as a gift. The idea was for people to link their Facebook photos to the chocolate box with a QR code. This way the recipient could view a personalised compilation of images from the sender with their chocolates.
These days we are constantly bombarded with advertising, meaning it's increasingly difficult to get consumers to pay attention – especially online. People are overwhelmed by the sheer amount of content thrown at them from every angle as soon as they log on, and this is demonstrated by an increase in the use of the 'skip' button feature.
Personalised videos go that one step further in grabbing attention, urging viewers to resist the skip, so we have every reason to believe that in 2020 this marketing tactic will dramatically increase. This technique helps to build a relationship with the audience: by providing them with experiences that are tailored, businesses stand out from the crowd.
#4. Storytime: Video marketing 2020
Another video marketing trend we predict for 2020 is the rise of the story format. That's right – it's story time and the whole world is hanging on each word. Why? Quite simply because of FOMO (fear of missing out).
Taking advantage of the millennial FOMO pandemic is an effective tactic for getting customer engagement and fast. Social media stories are one way to do this. Automatically deleting themselves after 24 hours, these customisable portrait-style posts encourage your followers to keep up with your every moment by catching your story before it disappears.
The latest surveys show that 7 in 10 millennials experience FOMOand furthermore that this can influence their purchasing decisions. In a recent study undertaken by Credit Karma, it was found that a quarter ofMillennial shoppers FOMO-spend several times a year! With Facebook just having launched their stories feature, it's more than fair enough to assume that this will be a growing trend.
#5. User-generated content: From prince to king
Users tend to trust other users over companies themselves. With this knowledge, we can safely say that in 2020, more brands will begin to encourage clients to produce their own content as a source of self-generating engagement. This is a powerful video marketing trend for brands because it involves very little investment, and credible, raw, and interesting real-world footage as a result.
Sharing valuable user content on social networks can increase visibility and enhance engagement. Unboxing videos are the best format for the products since they provide objective feedback to potential customers who are likely considering buying your product.
Some companies, such asSheIn andAliExpress, have already created new customer networks and integrated them into their websites and apps. This novel marketing feature almost gamifies the user experience, rewarding customers with points, prizes and discounts for publishing their reviews or interacting with the site or product. Genius.
#6.Vlogging: Telling it like it is
Getting your customers to empathise with your advert and visualise themselves using your product or service is everything. This is why vlogging is taking the advertising world by storm. Huge on platforms like YouTube and Instagram, vlogging gives people the chance to broadcast multiple aspects of their daily lives. This can range from downright mundane things to the most thrilling activities.
There's nothing an audience loves more than to sink their teeth into a real-life scenario. Vlogging gives viewers that all-valuable sneak peek into the running of your business and the reality of your product. This does wonders for building rapport with your customers and gaining their trust. Different brands have slowly been invading the vlogging world and in 2020 we can expect this video marketing trend to become even more popular.
#7. Format optimisation: Get comfortable
Advertisers want you to feel comfortable consuming their marketing campaigns. This is why digital specialists are positive that by 2020 all videos will be optimised for each social media platform. Bear this in mind next time you publish a post on behalf of your company and ensure that your content meets the needs of each specific platform. For instance, you'll want a square video for Facebook but portrait videos for Instagram Stories and IGTV. Native video content far outperforms a link to YouTube, as the video fills the screen properly, helping your content to stand out on the newsfeed.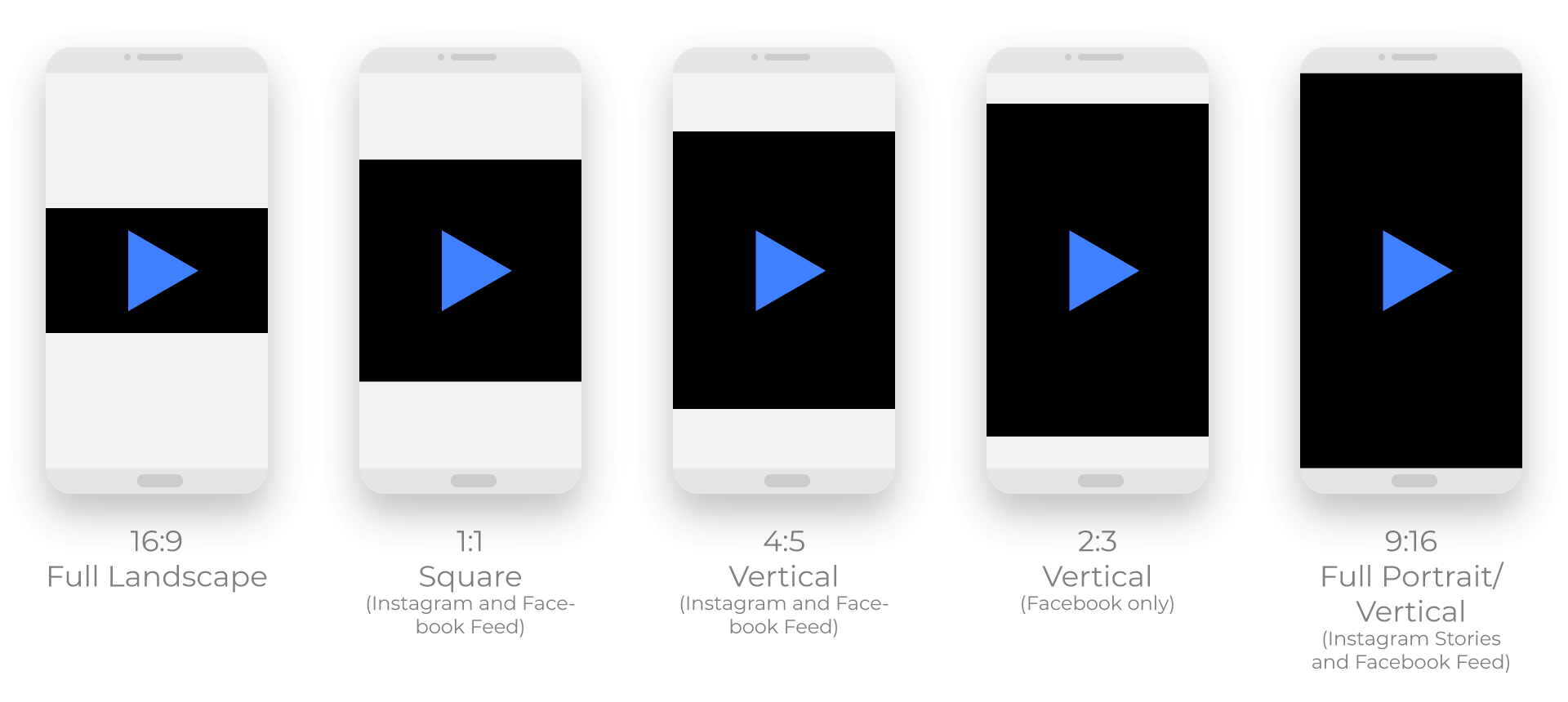 We hope that, armed with this arsenal of insights, you will be fully prepared to conquer a bigger audience with your video marketing next year. Stay tuned with agenda.video!